Blog
Heritage Crew Are Seeking Investigative Creatures
Written by
Heritage Corner
Image
Heritage Crew are a team of intrepid investigators of hidden history, who share their findings through creative engagement projects. Do you have a mission for this youth-led team to investigate? Or, perhaps, you'd like to follow their findings expressed through creative projects?
Unlike the Ghostbusters, Heritage Crew are not afraid to cross the energy streams of their combined creative talents.
Some subjects under investigation by the Crew are quite sophisticated and straightforward, whilst others can be stickier and more squidgy to handle. Our well-trained operatives always have the public's wellbeing in mind, as they peel back aspects of Leeds' history, hidden in plain sight, informing us more about our world today.
With funding from Leeds Inspired, Heritage Crew's current venture is The Indigo Project, an exploration of African textiles and connections with Yorkshire's textile history.  We will look at international and local history through a series of skills-based workshops, both research and practical based with professional artists both in Leeds and in the Caribbean. Find out more here.
The Indigo Project, for ages 16- 25, will take place during November to December 2023 with an exhibition in January 2024. We will include a heritage walk, special visits and creative sessions with Chapeltown artists as well as an international artist and curators building towards an exhibition of our findings.
Image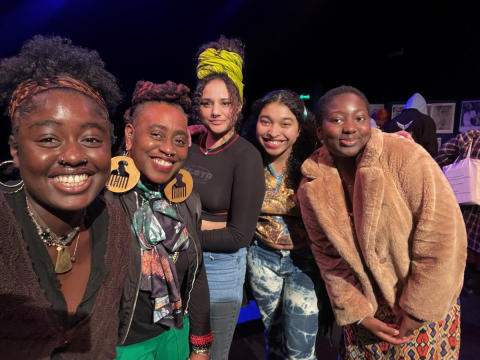 Heritage Crew's first project, earlier this year, Black Orpheus, took a deep dive into Nigerian literature at the invitation of students at the University of Leeds' English Department, who had discovered a collection of journals of African and Afro-American literature that began publication in Nigeria in 1957.

Visit the web-page to hear Heritage Crew's Creative Coordinator, Ginalda, who worked with the students with the archived material. Ginalda and colleague, Cara-Mia presented their insightful poetic responses at a special event to raise awareness of the collection of journals and was received very well.
Heritage Crew earn their right to be creative by engaging in networking and fundraising strategies, in addition to their busy schedules delivering other work as freelancers. This young company shows great potential to make major contributions to Leeds – generating their own funding and building partnerships for project delivery and public engagement.
If you would like to take part in the Indigo Project exploring the journey of African textiles and how it relates to us even today in Yorkshire, or you want to know more about Heritage Crew and the faces behind the scenes please visit the website here.
Taster sessions will be held on 16th, 20th and 23rd November, please fill out the application form here and submit it as instructed - or for any inquiries or concerns please email info.heritagecrew@gmail.com. This is a 16+ course. You must be 16 years of age or above to participate. The project will be taking around 15 - 20 applicants
We look forward to your support.
Find us on instagram: @heritage_crew_