Leeds Playhouse
Leeds Playhouse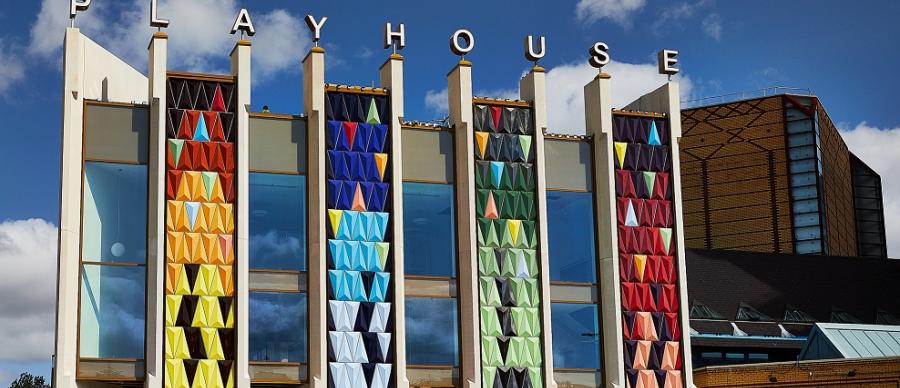 Hide Map
Playhouse Square, Quarry Hill, Leeds, West Yorkshire,
LS2 7UP
West Yorkshire Playhouse has now changed its name to Leeds Playhouse.
The name change marks a new chapter in the theatre's 50 year history, embracing its role at the heart of the cultural life in the Leeds City Region, and echoing the original name of the Playhouse which first opened in 1970.
The Playhouse's renaming comes at a key time for the organisation, as it embarks on a transformative capital redevelopment project resulting in a striking new city-facing entrance; improved access into and around the building; enhanced financial and environmental sustainability; and the opening of the Bramall Rock Void, a new third performance space within the foundations of the theatre.
From September 2018, Leeds Playhouse will present its 2018/19 Pop-Up season. This season will take place in the Pop-Up theatre, a temporary space built in a workshop on the existing Playhouse site, and in venues across the city and the wider Leeds City Region whilst the Capital Redevelopment project transforms the existing theatre building. The season features a broad range of modern classics, contemporary revivals and new commissions.
Image: David Lindsay
Parking
Quarry Hill car park is right next the Playhouse. Blue Badge Holders can park in the car park for free. Disabled parking is also available on Playhouse Square, directly outside the main entrance. These car parks are operated by Leeds City Council and parking is only £2 after 6pm.
The Leeds Inspired website lists thousands of events happening in Leeds every year. You'll find gigs, exhibitions, dance,…
Leeds Inspired manages grant schemes that support arts events and projects taking place in Leeds. Since April 2012 we…
Leeds Inspired grants have supported hundreds of projects, read about some of them here...