Image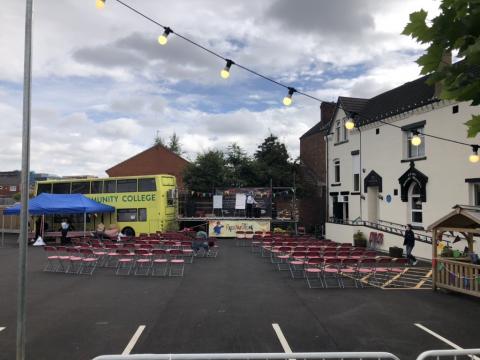 The Holbeck
Jenkinson Lawn
Leeds
LS11 9QX
United Kingdom
The Holbeck is the oldest social club in Britain.
Slung Low manage the bar as a traditional members' bar and the rest of the building as an open development space for artists and a place where we invite other companies to present their work that otherwise might not get to be seen in Leeds. All work presented at The Holbeck is Pay What You Decide. The equipment and vehicles of the company are lent to those who have need. It is a useful place that shares its resources with those artists who need them.
The Holbeck is also home to the Cultural Community College hosting its classes and talks.
The Holbeck is owned by the members. It is managed by Slung Low. It is our company home and base.
Formerly known as Holbeck WMC rebranded as "The Holbeck" to reflect the modernisation of the club and its multi-use facilities.
The Holbeck is a members club but open to bona fide guests and club affiliates. We are a family friendly working men's club with a large concert room which is also available for hire. For more information or to discuss hiring our concert room please contact the Club on 0113 2260808 / 07743 562809. 
Bar
Music Venue
Pub
Theatre