City Varieties
City Varieties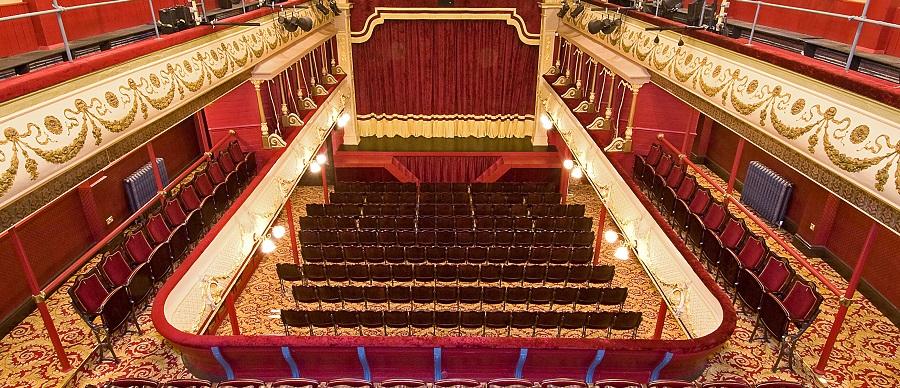 Hide Map
Swan Street, Leeds, West Yorkshire,
LS1 6LW
When business entrepreneur, Charles Thornton, opened his 'New Music Hall and Fashionable Lounge' in 1865 few would have guessed that more than 150 years later the much-loved venue would still be packing audiences in and its reputation would have spread around the globe.
Recognised by the Guinness Book of Records as the nation's longest running music hall, The Varieties' stage has welcomed many of the world's greatest entertainers, from Harry Houdini and Lilly Langtree to John Bishop and Russell Crowe.
Hidden up a cobbled side street just off Briggate it began life in 1865 as a room above a pub, established for the working people of Leeds to be entertained; its affluent sister venue, Leeds Grand Theatre, was meant only for the higher classes. The name subsequently changed to the 'White Swan Varieties', 'Stansfield's Varieties' and 'City Palace of Varieties'.
In 1953 The Varieties became home to the BBC TV Series The Good Old Days; a recreation of old-time music hall featuring Leonard Sachs as the alliterative Chairman and many well- and lesser-known performers, including Les Dawson, Barbara Windsor, Bruce Forsyth, Eartha Kitt, John Inman, Ken Dodd and Barry Cryer. The TV programme ran for 30 years until 1983. Audiences were encouraged to dress in Victorian garb - and they duly obeyed!
Albeit untelevised, The Good Old Days still runs today. Modern acts include: Steve Hewlett, a ventriloquist who came fourth in ITV's Britain's Got Talent; Josh Benson, a comedian/magician who appears in The Good Old Days with his dad and went on to star in Tim Firth and Gary Barlow's musical Calendar Girls; and Goronwy Thom, a juggler/unicylist.
In more recent times the venue has benefitted from major restoration work, having closed in January 2009 for a well-deserved £9m restoration, relaunching in September 2011 to great acclaim. Today City Varieties Music Hall is renowned for hosting the very best in live music, variety, comedy and National Theatre Live and delayed screenings, as well as the hugely popular Rock 'n' Roll Pantos that showcase the very best of live actor/musicians in a break from the traditional pantomime. Since relaunch in 2011 the Varieties has played host to Michael McIntyre, John Bishop, Ross Noble, Jack Whitehall, Boy George, Kerry Ellis, Russell Crowe and the Queen and Prince Phillip.
Our learning programme invites children and young people to explore this historic venue. Our thriving Youth Theatre, curriculum-linked schools' workshops and training provision of placements and apprenticeships, enable young people from across the city to access the arts, be creative, build confidence and develop skills.
Please contact Box Office for further information and to talk about any specific requirements.
Opening
Please check with venue
The Leeds Inspired website lists thousands of events happening in Leeds every year. You'll find gigs, exhibitions, dance,…
Leeds Inspired manages grant schemes that support arts events and projects taking place in Leeds. Since April 2012 we…
Leeds Inspired grants have supported hundreds of projects, read about some of them here...