Image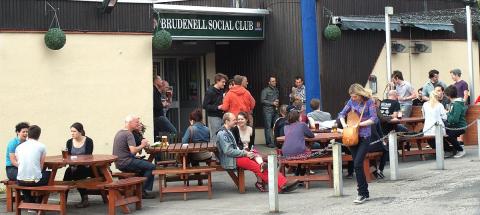 The Brudenell Social Club
33 Queen's Road
Leeds
LS6 1NY
United Kingdom
The Brudenell is a lively and fun loving venue that embraces music and art under a wide and diverse umbrella that has no boundaries.
Our open music policy believes in freedom and creation and holds the belief that music and expression provide useful social interaction.
It is a community 'non profitmaking' venue, that holds charitable status, based in Leeds 6. The Brudenell Social Club is owned by its members, run by its members, for its members.
The Brudenell is most famous for hosting secret gigs for bands like Franz Ferdinand and the Kaiser Chiefs. However, it has been a centrepiece of the Leeds music scene for a number of years, and hosts gigs most nights of the week, which are put on by a variety of local promoters.History
The name Brudenell is said to come from the family of James Thomas Brudenell, who owned Kirkstall Abbey after it ceased to be a monastery in 1539. James Thomas Brudenell was also the Earl of Cardigan. This connection explains why many roads in the Hyde Park area of Leeds are named Cardigan and Brudenell, and therefore how the Brudenell itself got its name.
The Brudenell Social and Recreational Club has a long and varied history and was formed on December 8th, 1913, it bought its first premises and current land shortly afterwards where it is still located today.
The Brudenell is not just about music... facilities include: a lounge, Games Room with Snooker Table, 5 Pool Tables, Darts, Table Football, Pinball Machine, a large concert room, Sky TV and ESPN showing all the live sports in HD.
We serve quality local cask and world speciality craft ales that sit alongside well known and accessible brands, all at a fair price.
We also have other local groups whom are situated here including Photography, Film and even Origami groups meet on regular occasions.