Blog
Art Doctors To The Rescue
Image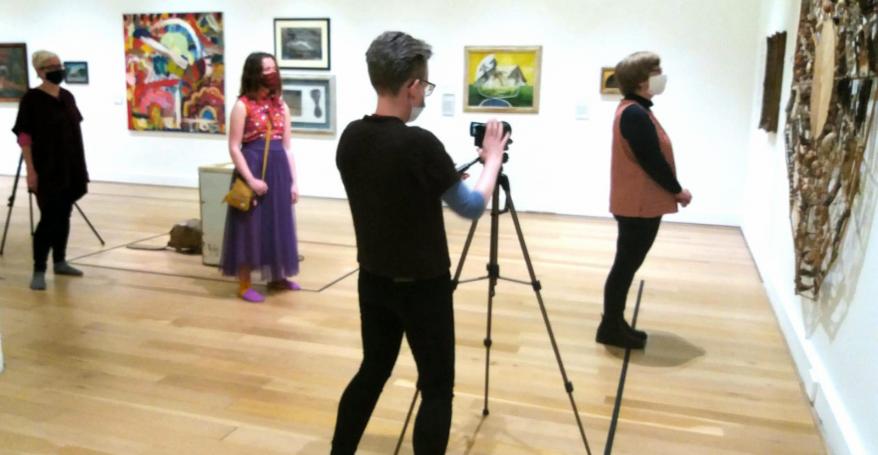 Here at the Art Doctors, we have produced a series of very short films of the activities in our Toolkit for Gallery Visits. If you've ever felt nervous about visiting an art gallery, felt a bit intimidated when you got inside or weren't sure how to talk about your thoughts and opinions (we definitely feel all these things sometimes) these films are for you.
The films were created with members of Leeds Art Gallery community groups and the Arts and Minds Network, with funding and support from Leeds Inspired and Leeds Art Gallery. And here's a bit of background if you'd like to find out more about the toolkit and how it was created.
Back in 2018 Art Doctors were supported by Leeds Inspired on a project called Who's Afraid of Contemporary Art? During the project we worked with Heydays, 105Women and Come Find Us, as well as Leeds Art Gallery's Youth Collective and Art Chat groups, to talk about art galleries and contemporary art and why we so often find it difficult to formulate and discuss our ideas.
Many people in the groups were unconfident about visiting galleries or about how to talk about the artwork if they did already visit. There was a lot of worry about getting it right, or making sure you understood and not feeling stupid if you expressed an opinion. Sometimes people where unsure about how to articulate why they liked something and others just felt that galleries weren't for them because they weren't the kind of people who belonged there, who had an ownership of the space or a right to be there.
Over the course of the project we worked with the groups on ideas for an exhibition at Leeds Market and a Toolkit For Gallery Visits, a set of cards that people could take with them to galleries and that might make crossing the threshold of the gallery, and connecting with the work on display a little easier and more fun. Like an art trail for adults! Originally a box with the cards inside, they are now available to download from our website so you can print them out and take them with you on your next gallery visit.
The Art Doctors are Leeds-based artists Alison McIntyre and Liz Stirling, with regular special guest appearances from consultants, specialists and junior doctors. We playfully break down barriers to participation in contemporary art, and explore the positive role of creativity in all our lives.
We gather near art galleries, at events and online, wearing our paint splattered coats and stethoscopes, and with prescription pads at the ready. We may prescribe some art for you to go and look at or maybe an everyday creative activity for you to try at home.
We love thinking about art and creativity as a starting point for conversations and we firmly believe that every response is valid and important, whether you see yourself as an expert or not. We also believe in the power of FUN.
Find out more about Art Doctors on Twitter @art_doctors