Image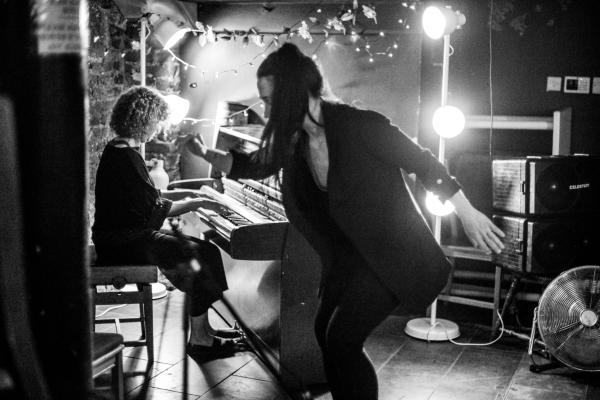 Tue 21 Nov 2023
TNL: Petra Haller and Meg Morley
TUESDAY NIGHT LIVE: PETRA HALLER and MEG MORLEY
Doors at 7pm Music from 7.15pm
Over the past year tap dancer Petra Haller and pianist Meg Morley have established an exciting duo partnership based on free improvisation and the concept of interplay and interchange between two performing artists of equal standing (rather than soloist and accompanist).  Petra and Meg will be playing music from their debut Album 'Shoulders I Stand On' and freely improvised music.
"Tap dancer Petra Haller and pianist Meg Morley continue their longstanding partnership, one that eschews any sense of hierarchy between their mediums, and instead invites a rich interplay and an embodied approach to freeness. Quicksilver keys waltz with even quicker footwork." – FREENESS, BBC3 Radio
"Petra Haller is unique as an improvising tap dancer – a worthy successor to Will Gaines!" – Oliver Weindling, The Vortex Jazz Club, Babel Label
"Haller and Morley play off one another to create an experience of both free-wheeling athleticism and highly disciplined technique. They explore rhythm and time and most engagingly, how top-tier artists communicate in real-time." – Wandsworth Fringe Festival 2022
Photo: Robert Crowley
Music from 7.15pm to 9.15pm approx.
Tickets £7/£6 available from HEART reception and online
Bennett Road
Leeds
LS6 3HN
United Kingdom
Show on map
Date
Tickets
Access
Links