Image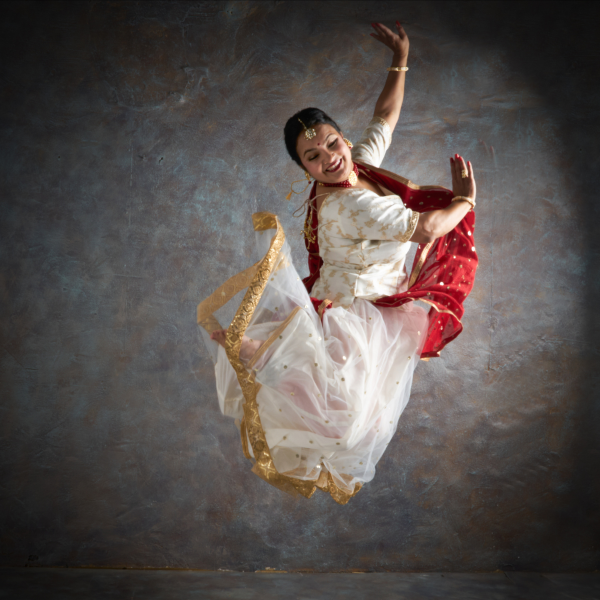 Sat 25 Nov 2023
One Dha at a time: Dancing towards new light
In the radiant month of Diwali, a celebration of Light over Darkness and the pursuit of Knowledge over Ignorance, four classically trained dancers embark on a journey to seek the essence of their dance.
'One Dha at a Time,' is an experimental South Asian dance show where the dancers challenge the conventional norms and inherited practices of Bharatnatyam, Kathak, Manipuri, and Odissi. Through their dance, they share their personal discoveries, questions, and challenges they face as contemporary practitioners of traditional dance styles. 
SAA-uk cordially invites you to join us at Seven Arts for a show that promises to bring you closer to the contemporary expressions of Indian dance forms, one dha at a time. 
Get to know the four dancers and their performance pieces below:
Prarambh - Jyoti Manral 
For Jyoti, Kathak is in the bols (sounds) of the taal (time cycle). She started her inquiry by looking at 'Dha' which is the first bol that one utters and embodies when dancing Kathak. In Prarambh, she reflects on origin of different bols that are commonly found in Kathak repertoire. She brings to life the different personalities, characteristics, moods that the bols represent. At the heart of it, her performance introduces us to the musical, rhythmic soundscape of Kathak dance. 
We begin with flowers - Maryam Shakiba
In the realm of Odissi dance, the opening repertoire piece traditionally incorporates a flower offering that affirms the sanctity of space and marks the beginning of a divine journey. Maryam elaborates on these principles while asking whether we can use this connection we all have with flowers to give us a moment of clarity. What makes a space sacred? Can we find that wonder in our everyday lived environment? Can we actively create it in the places we inhabit? And finally, she asks - can this offering be a collective experience? 
Dvidehi -  Debanjali Biswas
Manipuri dancer Debanjali Biswas charts the stories of Amba-Shikhandi from the epic Mahābhārata while reflecting on the characters' personhood and queer identity. What Debanjali explores for ODAAT, is narrative storytelling, and merging tandava/vigorous with the lasya/languid – both of which come from uniquely different movement systems in Manipuri – to bring the tension and duality in the characters' gender-sexuality. The choreography draws from components of martial movements of Thang-ta, Cholom tandava or movements derived from dancing with musical instruments, and Raaslila Jagoi, the classical genre. 
(Don't) Tell Me What Bharatanatyam Is - Kavya Iyer
After spending 25 years practising Bharatanatyam, Kavya is taking her artistic exploration beyond the rigid lines - of the body and of the mind - that are considered the borders that define the form. In her solo, she delves deeper into what Bharatanatyam has evolved into: rooted yet contemporary, local yet global, rigid yet fluid. The performance contextualises her practice that resides in the in-between spaces of Bharatnatyam for the world we live in today. 
31a Harrogate Road
Leeds
LS7 3PD
United Kingdom
Show on map
Date
Tickets
Access

Accessibility

Baby changing facilities

Wheelchair access
Links