Image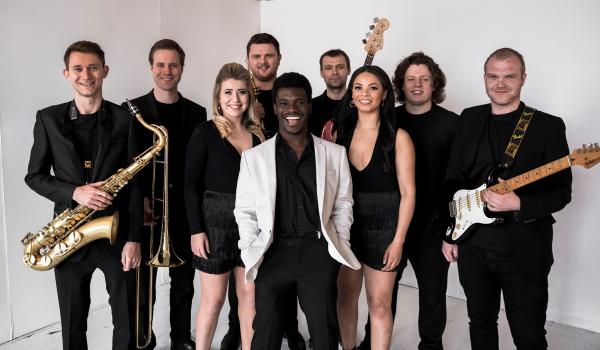 Thu 13 Jan 2022 - Thu 2 Jun 2022
The Northern JB's:Live at Sela
Adults only
Event organiser:
Sela Bar
The "Legends of Funk" - The Northern JB's will be hitting the Sela Bar stage, served up alongside the usual tasty pizzas & booze.
Our funky residents The Northern JB's will be returning to the Sela Stage on Thursday 13th January.
The Northern JB's pay homage to the founding fathers and behemoths of heavy funk, The JB's. Playing an exciting mix of classics from James Brown to Parliament/Funkadelic and many other funk icons (both past and present) this show will keep you moving all night!
-Ciaran Diston - Trumpet
-Tom I'Anson - Trombone
-Daniel Brunskill - Saxes
-Connal Mulvenna - Guitar
-Fergus Quill - Bass
-Joshua Smout - Drums
All the usual Pizza, Beers, Cocktails & Funtimes available from 4pm as always.
Get down early to get yourself a good seat for the show.
All cocktails 2-4-£12 before 8pm.
Tickets are £5 - all money goes to the band, there will be a tip jar on the evening should you wish to give them more!
20 New Briggate
Leeds
LS1 6NU
United Kingdom
Show on map
Date

Thu 13 Jan 2022 - Thu 2 Jun 2022

Show all dates/times
Tickets

Tickets are £5 each. 

Get down early to get yourself a good spot for the show.
Access

Sela Bar is a basement venue, accessed via a narrow set of 16 stairs, there is no wheelchair access. There is no disabled toilet. Everything at the venue is on the same level, apart from the stage which is 18cm higher.

There is no parking at the venue. Taxis can drop customers off outside the venue on the opposite side of the road.

Our nearest train station is Leeds City
Station, which is 804 metres away. Our nearest bus/coach station is Leeds Bus Station, Dyer St, LS2 7LA, which is 482 metres away.

Large print menus available.

Please message emilyselabar@gmail.com for any enquiries about accessibility.
Links