Blog
Open Source Arts: Affordable Theatre Programme
Written by
Open Source Arts
Image
The Affordable Theatre Programme is a series of live theatre shows performed by grassroots artists, live streamed through Open Source Arts' new state of the art broadcast equipment, bringing high quality work to a broad audience for a Pay As You Feel ticket price.
The next show in the Affordable Theatre Programme will be HEXE! by internationally recognised dance artist Concha Vidal, broadcast live at 7pm on 30th May 2021. 
HEXE! recorded at Teatre Principal in Spain, is a piece of raucous, punk theatre that amplifies the muzzled voices of the past and draws clear parallels to the ongoing ways in which the contemporary world attempts to hush and erase the presence of "witches" and other females made invisible.
The show will be followed by a brief interview session, where Concha will shed light on the creative process behind their work and give some insight into their practice as an artist and creative.
Tickets are on a Pay As You Feel basis, donate any amount over £1 to watch it, allowing you to access these performances whilst removing the barrier of a high ticket cost. All contributions are shared between the artist and Open Source Arts to support a sustainable arts sector in Leeds, working towards a world where everybody can participate in the theatre.
You can book a ticket from £1 to Concha's show via the PayPal donation button on the Open Source Arts website here.
Image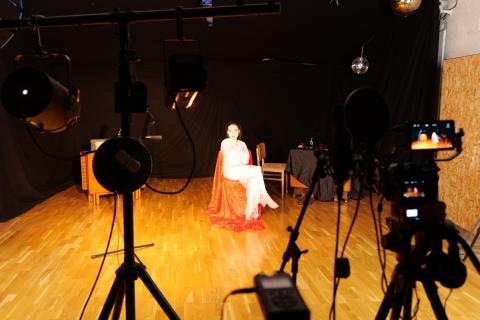 Phrases and Footnotes (pictured above) by Lewys Holt, an earlier show in the Affordable Theatre Programme, was so well attended and received that the artist was paid and costs incurred by Open Source Arts were covered. Such a positive response meant the the offers within the Affordable Theatre Programme have been broadened to include an Open Call for more performers to produce a show within the programme, and a series of Skill Based Workshops. 
The  Open Call is aimed specifically at emerging performance artists who have a show either ready to go or currently in development. This Open Call is not a commission for new work but rather a chance to create a top quality recording of a show that will make a huge contribution to an artist's portfolio and help creatives bridge the gap between the early development stages and first funding applications. Apply here to have your show hosted in the Affordable Theatre Programme.
The series of Skill Based Workshops around video making and live streaming are funded by Leeds Inspired and aim to upskill the community. Applying creative solutions to build resilience in the arts sector has always underpinned all the work of Open Source Arts. We see live streaming and broadcast as areas of practice that are emerging more and more in the sector, and having this new hardware at our disposal is a special opportunity to boost grassroots activity in a Covid safe way, and provide pathways to professional employment for artists by holding training sessions with the equipment - as well as putting on fantastic shows.
You can find more information about the workshops here and if you are interested please send your name and number to jacob.justice@opensourcearts.co.uk.